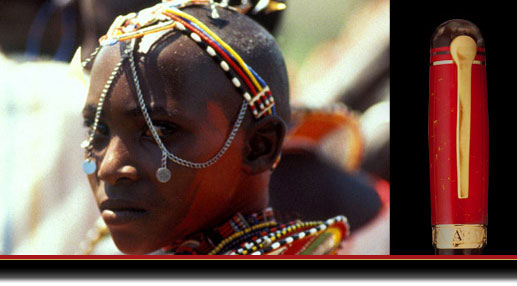 This is a Sold Out Collection
The Maasai, are names for the Maa Language. The rain god, Ngai granted all of the world's cattle to them for safekeeping when the Earth and Sky split. Legend states, " Without grass there are no cattle and without cattle there are no Maasai." Some Maasai individuals travel more than 50 miles on foot everyday. As all being of our world, the Maasai continue to live between the simplest way of life, directly connected to the Earth and the open Sky of human achievement. Delta celebrates one of the World's most legendary cultures with the collection of writing instruments that are as striking and unique as the Maasai themselves.

DM83010 - Delta Maasai Convertible Rollerball SOLD OUT

DM83011 - Delta Maasai Limited Edition Fountain Pen SOLD OUT

DM83012 - Delta Maasai Special limited edition - Fountain Pen SOLD OUT

DM83013 -Delta Maasai Celebration Fountain pen SOLD OUT
ITEM NUMBER

DESCRIPTION

SUGGESTED
RETAIL

DM83010

DELTA MAASAI CONVERTIBLE ROLLERBALL (1880 pcs worldwide) SOLD OUT

$375.00

DM83011

DELTA MAASAI LIMITED EDITION- FOUNTAIN PEN (1880 pcs worldwide) SOLD OUT

$695.00

DM83012

DELTA MAASAI SPECIAL LIMITED EDITION- FOUNTAIN PEN (1880 pcs worldwide) SOLD OUT

$825.00

DM83013

DELTA MAASAI CELEBRATION FOUNTAIN PEN (80 pcs worldwide) SOLD OUT

$2,150.00

Nib Sizes: 18K Gold (EEF, EF, F, M, B,BB, OM, OB, OBB & STUB)
*Price list updated June 15th, 2005
Price subject to change without prior notice. For specialty nibs (other than F, M, B) there is a $26 premium charge.