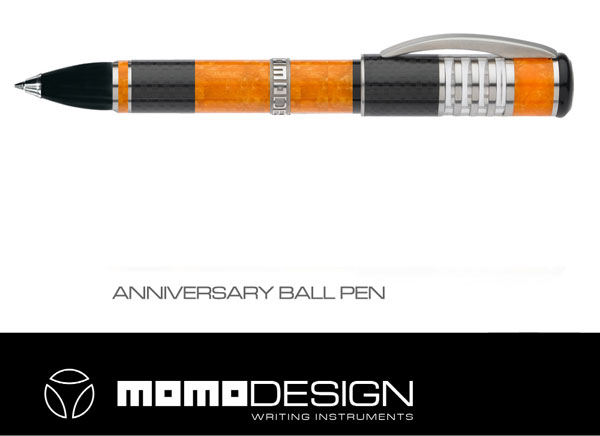 MOMO 30th by Delta
Carbon fiber, celluloid and nib in pure titanium: a creative mix and chromatic blend of extraordinary materials and innovative use of unusual shapes accomplished by both Momo design and Delta.
It was in 1992 when Delta added a new page to the world's history in writing instruments. After doing research for 3 years on innovative materials that could be valuable to produce writing instruments Delta produced the first writing instruments in Titanium and carbon fiber. Already at that time Momo design and Delta formed a partnership to bring forward innovation and design which resulted in the Momo "Carbon" collection by Delta.
Today, 19 years later the partnership is renewed as both companies create a new agreement to produce together new writing instruments offering new shapes, appealing and of great stimulus due to the high design value and the singular combination at same time as technological and traditional materials.
This cooperation resulted in the creation of the exclusive collection Momo 30th. The collection celebrates the 30th anniversary of Momo design company. This collection a limited edition comprises 981 fountain pens and 981 roller balls. Also available 30 pieces only of a very limited version named Celebration.
Technical characteristics
In carbon fiber, black and clear resins and celluloid. Both the celluloid and resins are turned by hand from solid bars.
Cap: offers a hand carved metal cage rhodium plated which contains the inner body in clear resin offering a "Vista" special effect. At the extremity in the top of cap offers a medal featuring Momo design logo.
Clip: Rhodium plated is machined from solid piece of metal and features a "pull-spring" mechanism.
Body: offers an tridimensional ring in solid sterling silver sculptured with the words MOMO DESIGN. The limited edition numbering is located in the top end.
Nib: in pure titanium and available in F ad M grades.
Filling system: Delta's own rigid and fixed piston filling.

Technical characteristics of the Celebration version
These 30 pieces of very special fountain pens offer 18 carat solid Rosè gold, black celluloid and carbon fiber.
Nib in 18 carat solid Rosè gold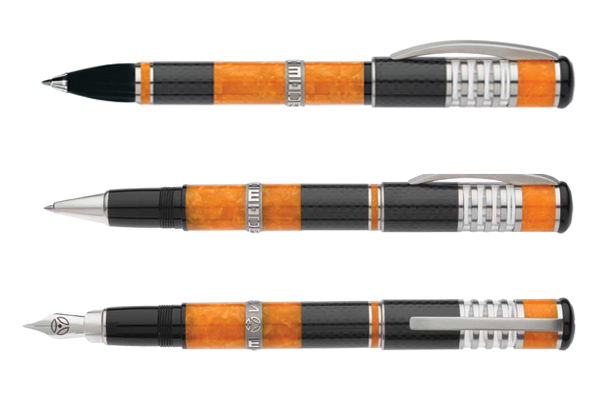 ITEM NUMBER

DESCRIPTION

SUGGESTED
RETAIL

DM85023
Anniversary Ball Pen celluloid & carbon fiber silver - 981 pcs
$395.00
DM85020
Anniversary Rollerball celluloid & carbon fiber silver - 981 pcs
$750.00
DM85021
Anniversary Fountain Pen celluloid & carbon fiber silver - 981 pcs
$1095.00
DM85022
Anniversary Fountain Pen black celluloid 18kt gold ring button fill - 30 pcs
Call for Pricing
Price subject to change without prior notice. For specialy nibs (other than F, M, B) there is a premium charge.